I'm John Meaney, science fiction and fantasy author. I also write near-future thrillers under the pseudonym of Thomas Blackthorne. Welcome to my virtual home! Pull up a chair, and let's catch up on what's happening.
LATEST NEWS: TRANSMISSION, volume 2 of my latest space opera trilogy, is currently out... and the conclusion, RESONANCE, is coming along nicely, with superb cover art by the legendary Jim Burns.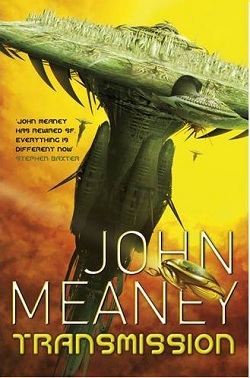 John Meaney... a brilliant, inventive writer... Absorption is his most compelling and accomplished work yet... he may produce his masterpiece in The Ragnarok Trilogy...Absorption is the best hard science fiction Iíve read this year, well written, exciting, mysterious, full of interesting characters and ideas... The Times, London
Website news: The new-ish 'art' page is for giggles, nothing more.
Buyer beware: For readers of my Tristopolis books, please note that Black Blood and Dark Blood are the same book, released under different titles by different publishers, either side of the Atlantic. (If you buy books online, it's not obvious when you're buying a foreign import, which might be a different edition of something you already own.)
On the personal front, I'm living in a Welsh valley these days, with actual fresh air and forest nearby. And, with luck, producing many more books...
The nice things people say...
A brilliant, inventive writer.The Times
A masterclass in characterisation. Eric Brown, The Guardian
A spectacular writer. He makes SF seem all fresh and new again. Robert J. Sawyer, Hugo Award-winning author
A wonderful writer who deserves worldwide recognition. Cheryl Morgan, Emerald City
John Meaney has rewired SF. Everything is different now. Stephen Baxter
One of the best authors of hard SF in the world... SFX
One of British science fiction's most original and exciting practitioners. Barnes & Noble